4 min read - Thursday 18th November 2021
What is Circa Art? By Lois Freeman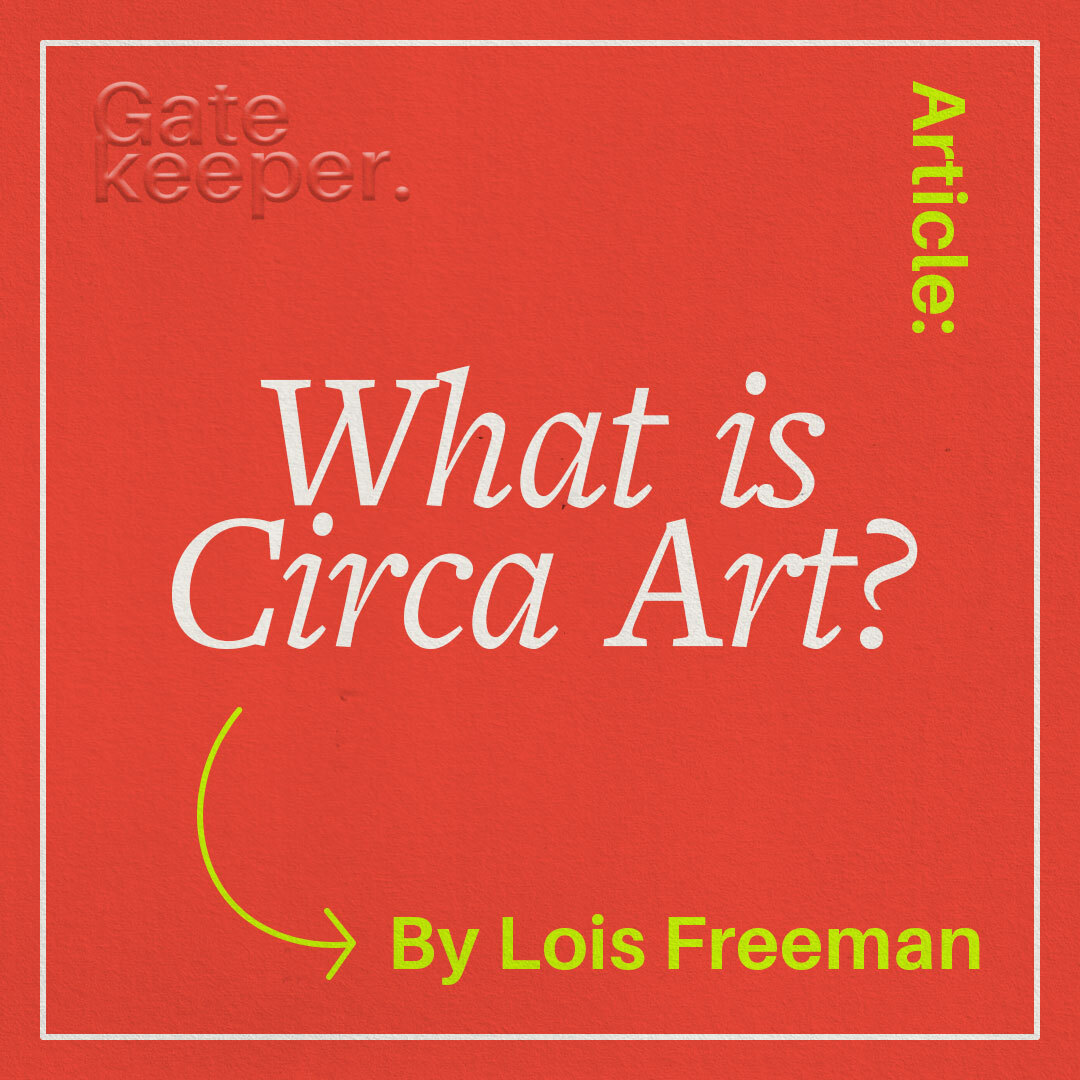 Image description:
The Picadilly Lights in Picadilly Circus. The screens have been taken over by Circa Art with the name of their website.
Deciphering the new digital art platform and the opportunities it presents for emerging artists.

A new art movement has begun. Pioneered by artist Josef O'Connor, 'Circa Art' is a multi-dimensional platform for artists, both emerging and established, to respond to the world, circa 2021. It consists of three strands: commerce (the sale of work), sponsorship (the financial support of artists and organisations), and exhibition (a daily takeover of the Piccadilly Lights). All three strands contribute to a newly formed 'Circa Economy': fewer gatekeepers, more circulation.
Image description:
The #CircaEconomy Report. A pie chart is divided into 9.5% Cultural Grants, 53% Commissioning New Culture, and 37.5% Circa Class of 2021. The Report then shows Circa Art's spending: £10.000 on Cultural Grants, £56.121,98 on New Culture Commissioning, and £40.000 on the Circa Class of 2021. The total #CircaEconomy comes to £106.121,98.
The commercial strand provides a crucial influx of money to the platform. Each month, the Circa website is taken over by an established artist. Currently, users are met with the face of artist and activist Ai Weiwei. In a home-documentary style video, Weiwei records himself signing an original print - one of 51 available for the general public to buy.


The site taps into the 'drop culture' of the likes of Supreme and other popular fashion brands, where a sense of urgency and scarcity is constructed to increase a product's perceived value. Circa is clearly interested in the artist-celebrity, and how their status can be capitalised on to produce a wider gain for the growing art community. These sales go towards Circa's sponsorships. You can also support Circa Art by 'buying your name in lights' to be exhibited as part of their worldwide exhibition alongside the likes of Vivienne Westwood.
'In our current state of emergency, we believe art can act as a force for good and contribute towards re-shaping our fast-changing world.'
Image description:
Ai Weiwei's 'hand-typed and signed copperplate etched prints, titled "£". the work explores the value of £100 and what it could buy in the UK today.'
This month's print investigates £100 in economic, social, and political terms. While it could buy '117 cans of Heinz baked beans from Sainsbury's', and '69 days of living under the World Bank's global poverty line of £1.45 per day', it would only contribute to '0.00000007% of Amazon CEO Jeff Bezos' net worth of £160,000,000,000', or '2.1% of the Royal Family's daily food costs'. These simple statements dismantle the objectivity of monetary value and push the platform's circular goals in regards to the redistribution of wealth.


Circa Art's sponsorship strand encompasses cultural grants ('no-strings-attached cash' given directly to artists and communities) and new culture commissions (funds given to artists in return for work). These artists make up the 'Circa Class of 2021', a diverse community of practice that 'celebrates work which shines a light on our collective future'.


Circa Art wants these pieces to be timely, art that reflects the world now; thought-provoking, to spark new conversations; and site-specific, engaged in the history of the Piccadilly Circus Lights. Their direct sponsorships aim to 'target people in genuine need...rather than filtering payments through systems that slow and reduce donations.' Their economy is direct instead of top-down.


The Piccadilly Lights pause every day at 20.21 to illuminate the restorative power of art. Circa Art has hijacked this major advertising platform alongside others in Milan, New York, Seoul and Tokyo, while also live streaming the event on their website. This gives emerging artists a unique opportunity to develop their individual practice, showcase their work, and deliver their ideas for the future to global audiences. Circa Art has developed Europe's largest digital art exhibition, making art and the stories it tells a more accessible medium.


In 2020, Circa Art dedicated their exhibition space to art graduates who were denied degree shows: 'a cross-section of new artistic talent in the mediums of digital art, painting, sculpture, architecture, moving image, and performance'. Circa is determined to provide the space, money, and infrastructure for new artists to succeed.


Currently on exhibition in Picadilly is Hetain Patel, whose commission 'Baa's House 11' spotlights his matriarchal grandmother performing everyday labour, exuding the feminine power within immigrant communities.


Image description: A screenshot from Hetain Patel's 'Baa's House 11' picturing Indian Kathak dancer, Vina Ladwa as his grandmother in traditional dress with a similarly patterned painted wall on the right.

'The invitation to occupy such iconic spaces around the world is huge – physically, artistically, and culturally. Working at this scale is both daunting and thrilling. I can't wait to share this new commission with audiences in London and beyond.' – Hetain Patel.


In their efforts to create a circular art economy, Circa Art has capitalised on the power of the artist-celebrity, commercial transactions, and global audiences. They continue to create more opportunities for emerging artists and re-establish art as a public catalyst for change. They are currently looking for creatives to join their team.


How to visit:


(Courtesy of Circa Art's website)


CIRCA pauses the adverts on Piccadilly Lights for two minutes every day at 20:20 GMT/BST. The experience is also live streamed on CIRCA.ART.


Charing Cross and Piccadilly Circus are the nearest tube and train stations. The nearest bus stops (14, 139, 176, 19, 38, 453) are located on or around Regent Street, Shaftesbury Avenue and Piccadilly.


Bike racks are located at the top of Jermyn Street and Great Windmill Street. There is a London Cycle Hire docking station on Panton Street and Charles II Street.


There is no parking on Piccadilly Circus, but car and taxi passengers can be dropped off nearby. There are nearby car parks on Brewer Street and Old Burlington Street.