3 min read - Thursday 16th December 2021

Have a merry, crafty christmas: 3 eco-friendly ways to get creative this holiday

By Lois Freeman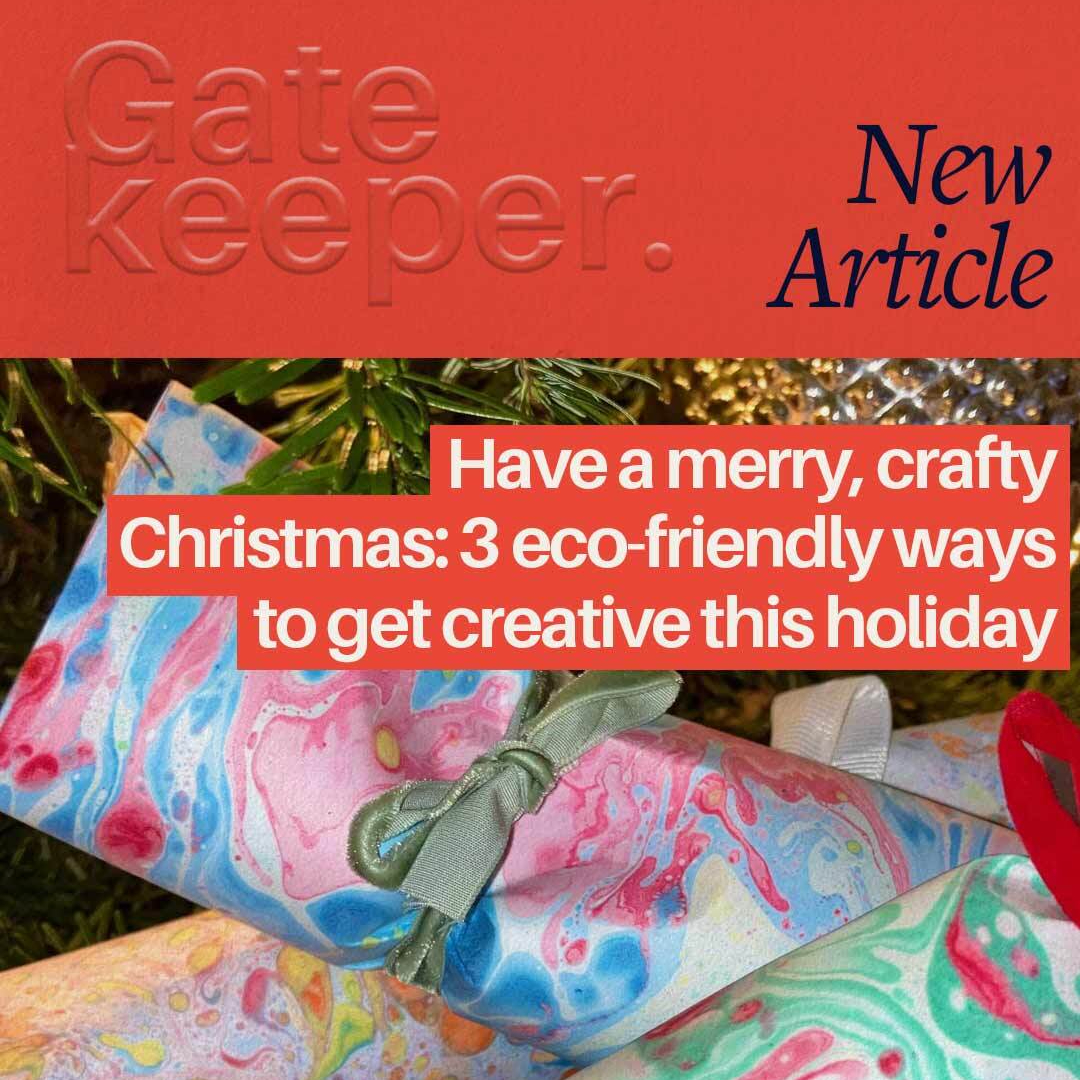 Curating a handmade, sustainable Christmas is the perfect way to make this season feel even brighter. There are so many added extras to navigate when celebrating Christmas, from crackers and tree decorations, to reams of wrapping paper and Christmas cards. It is tempting to save time and stock up on ready-made products from your local supermarket. However, there is creativity, and accomplishment, to be found through picking up the paints (and in this case potatoes) and doing it yourself.
Not only is it a fun way to spend an evening, but it will brighten someone's day with something that is handmade, unique and imprinted with a little piece of you. It will also release your inner-child and allow you to exert your creativity in a way that is peaceful and non-critical — your friends won't mind if their cards are a little too 'homemade.'
Make your own christmas cards with the humble spud
According to Royal Mail,
150 million cards
are delivered during the Christmas period and most carry considerable environmental baggage. This simple craft will take you back to primary school Christmas. Instead of printing with more expensive mediums like lino and ink, it requires only a few old potatoes and whatever fast-drying paint you can get your hands on (acrylic works best). Once you've drawn on your print, you can carefully remove the negative space with a knife, leaving a stamp of your design. Then, use your potato print to create winter scenes or little works of abstract art. You can add an extra flourish with brown or patterned paper and some eco-friendly glitter.
Image description:
Three handmade christmas cards made with potato print stars, holly and christmas trees.
2. Create clay decorations for your tree
Using clay to create handmade decorations for your tree is a great opportunity to practice with clay and create a more personalised festive display. You can replicate art-student essentials, your city's landmarks, or funny memories - offering far more character to your tree than a standard bauble. Using cuttings from your tree, or any other festive foliage, is a great way to create imprints into the clay which can be highlighted after with paint. A pack of cookie-cutters also allows you to cut shapes out more easily if you're going for a more classic design. I would recommend leaving your clay decorations to dry for a few days, or on the radiator overnight, so you can then add colour with paint.
Image description:
A plate of handmade, painted clay tree decorations, including a star, a christmas tree, and gingerbread men.
3. Marbling for handmade christmas crackers
Christmas crackers are the festive enemy of the eco-world. Their shiny exteriors make them non-recyclable, and the firecracker part releases pollution into the atmosphere. With an estimated
40 million
thrown away on Christmas day, making your own is far more eco-friendly, fun and customisable. You can fill them with home-made hats, hand-written jokes and edible gifts, instead of the usual plastic bric-a-brac which often finds itself in the bin. You can buy the 'cracker' element online, but even if you don't, the paper-ripping does provide some dramatics. Marbling card can produce beautiful designs for your crackers, and is very easily achieved with a tray of water and some affordable inks.
Image description:
Three handmade christmas crackers made from marbled card with colourful ribbon ties.