5 min read - Thursday 18th November 2021

An Interview with Venessa Scott

Interviewed by Alex Greer, co-edited with Lois Freeman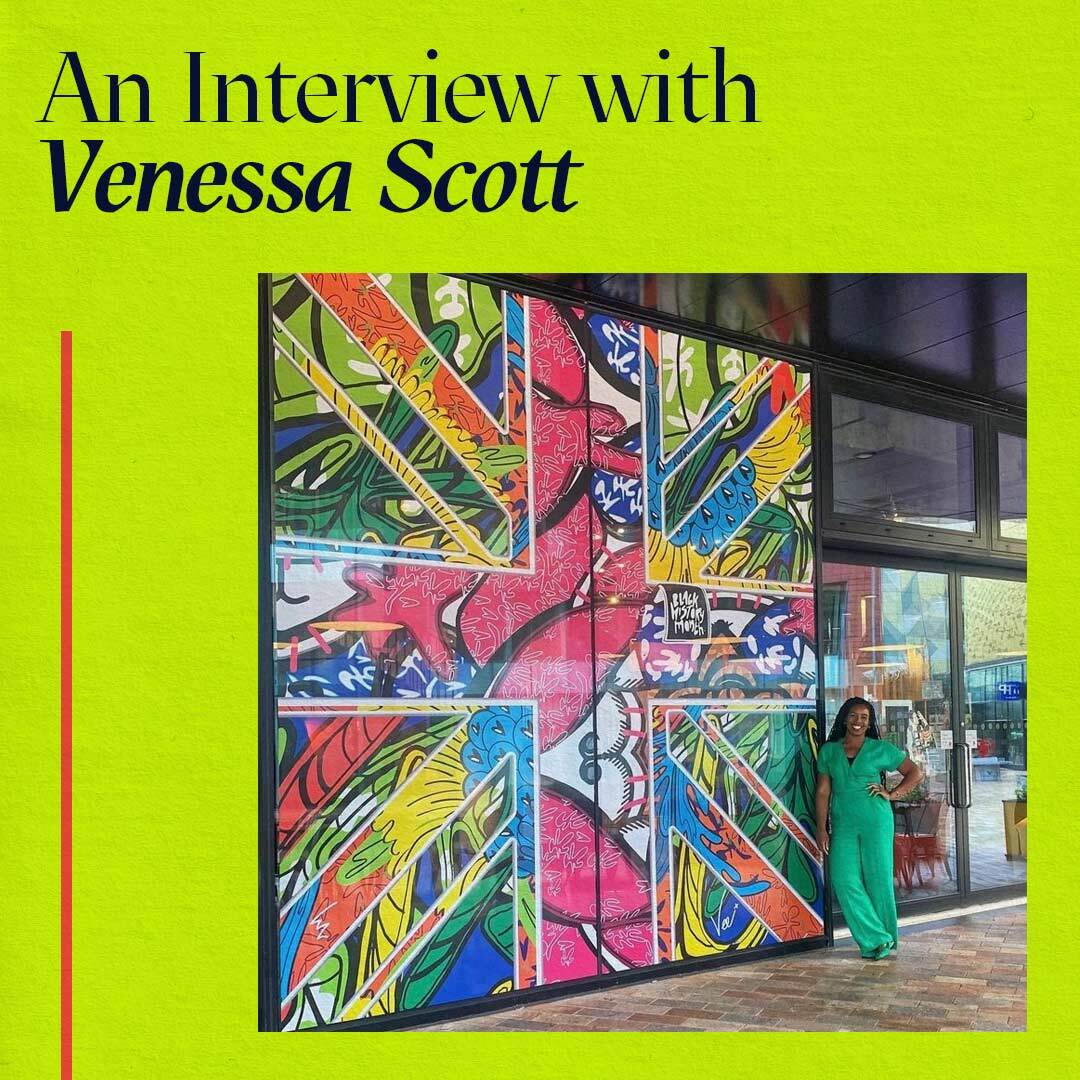 The UK creative industries are dominated by large institutions, from the Tate to the BFI. Smaller, independent artists can struggle to stand out under these conditions, where vacuums for attention mean funding goes straight towards these goliaths. The nature of recruitment and the working environment in these establishments often feels exclusive and inaccessible. This all leads to a less diverse collection of voices being heard. One way to oppose this is by creating community-led arts scenes.
Venessa Scott is a visual artist, commonly known for her captivating public artwork. She creates large-scale works which inject colour into urban landscapes, including one of the UK's largest permanent murals. One of her most recent pieces "Mancara Jack" was commissioned by Home in Manchester as part of Black History Month. It depicts a Union Jack using the bold visual language of African wax cloth, creating a vibrant and sensual exploration of Black Britishness.

The cultural and creative power of these communities are not being proportionately reflected in the art market. We had a conversation with Venessa Scott to examine this issue and the impact it has on Black artists.

Can you describe the impact that the lack of space for Black artists in the art market has on future generations?

I think that when there's a lack of space for Black artists in the art market, it can make it seem as though there are no Black artists at all, or there is no Black art. That lack of exposure, that lack of representation, has a great impact because it's as though we don't exist. It is as though art by People of Colour does not exist.

It not only impacts Black artists, but it impacts the actual diversity and richness of the market itself because where there's a market that only has one tone of voice it's going to become quite dry.

I only just found out about AfriCOBRA and bear in mind I have been to art school, studied art at every level of my education, lectured in design creativity and am now a full-time artist, but I only just heard about them. I heard about it from looking at the work of Bisa Bulter.

AfriCOBRA, if you don't already know, is an African American artist collective formed in 1968 by Jeff Donaldson. There's a whole list of people there and it is the principle of that, of people and things blending together, that I find absolutely fascinating. To blend lighter colours, we don't add white we add yellow.

I'd experimented in these things without even knowing that there was a whole generation of artists who championed this approach of collectivity. Had I known about that, had that been part of my education, I believe that the development of my practice as an artist would have been way further on. I am by no means sad about my progress but I just think if I knew about such art movements, if I was exposed to more art by Black artists with those sensibilities, backgrounds, and tones of voice, what kind of art would I be creating now? What kind of art would other artists be creating now? And not just artists of colour.

So to go back to your question, the lack of space for Black artists in the art market has a really detrimental effect on Black artists and I think on the art market as a whole, so yeah we definitely need to address that.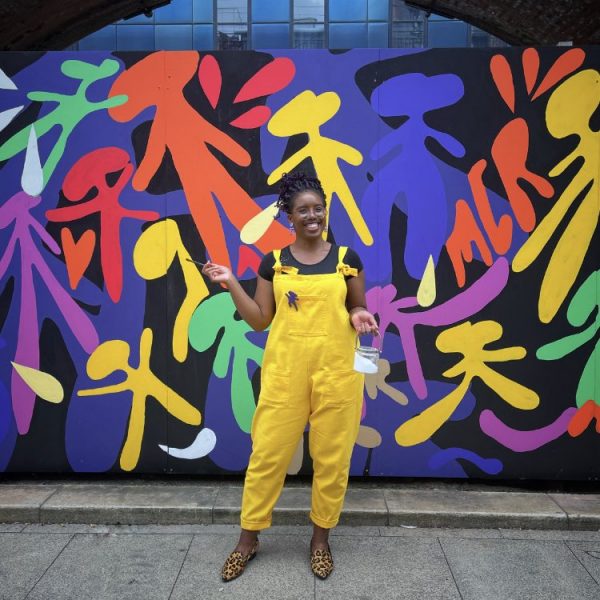 Image description:
Venessa Scott standing infront of her mural 'Together We Are', a colourful design of abstract bodies and other shapes floating against a black background.

How important is representation at the level of both curation and funding bodies?

Representation is everything. It makes the world more diverse, it creates such a wealth of outcomes and experience for everyone. If you're never exposed to something, you don't know what you're missing.

Also you might be trying to reinvent a wheel that was invented decades and decades and generations ago but the curation and funding bodies are the same, so the reinvention becomes stagnant. Maybe, if there was more representation in those areas, we would see a difference in what our galleries show.

I was fortunate enough to become one of the judges for the Manchester Open. In my approach to judging I followed the guidelines but I also made a specific effort to filter the search to make sure that I was seeing the work by Black artists. So I think that's the power of representation, if you go in there with a focus and determination, yes to look at all artists, but to purposely and purposefully make sure that you take in other tones of voices, I think that's invaluable.

How useful is collaboration as a tool for Black artists to empower each other's work?

It is fundamental. Collaboration in any case brings a richness to anyone's work. I work with schools because I like to take the outcomes of a group and see how we can make it one collective whole. The term 'aces in places', which is kind of cheesy, illustrates how exciting it is to collaborate with another Black artist. I feel like I've not had the opportunity to do that enough. I did that once as part of Eclipse Theatre early on in my career as an artist. It was an incredible experience being in a room with only People of Colour and creatives from different areas. The most similar experience I've had to that is when I did some of the interviews with Home for Black History Month. It is a beautiful thing and definitely something that should be encouraged and sought out.

What advice would you give to emerging Black artists?

If you want to paint a wall and no one's giving you a wall, find a wall and paint it. Build the wall and paint it. Keep going, practice practice practice and if no one is giving you the opportunity, forge a way of finding it or creating it yourself. Then by doing that, you will show other people what you can do.

It's hard, it's not easy, it's tiring. Before I could find walls to paint, I painted walls in my house. Before I could find big walls to paint, I would sketch. I have skills in digital design so I would mock it up on a wall and be like 'Hey, check this out, this is what one of my murals would look like'. If I couldn't find someone to publish a book then I'd research on KDP publishing and find out how to self-publish. So if the opportunities aren't coming to you, find a way to make them yourself.

Necessity is the mother of invention. I don't like the term 'Fake it till you make it' because who's faking it? You are what you are and you are creative. Another tip I would say is to research. Research and understand the market, the world around you, and get good at what you do. And that's in all aspects, from business, right through to being an artist in your studio.



Image description
: Venessa Scott stood next to her large mural '
Mancara Jack',
a reinention of the traditional Union Jack design using the bright and colourful patterns of African wax cloth.

Community is crucial for Scott. In 2015, she and her sister founded a non-profit company called SevenThreeOne, offering education and training to serving prisoners, ex-offenders, and disengaged young people, with opportunities to join courses in a range of creative subjects.

Scott's championing of a community-led model for creative scenes is vital. If the art market followed the same principles, perhaps we would have a creative industry more representative of this country's artists.

Sources: https://www.venessascott.co.uk/

https://www.greatermancunians.blog/venessa-scott-artist-manchester

https://homemcr.org/exhibition/venessa-scott-mancara-jack/